&nbsp
OFFLINE EVENT
全球最大规模女性科技创业大赛与国际论坛报名进行中
这是一个科技的时代,这是一个创业的时代
人们用科技创造更好未来,也用科技创业投资理财
In the new age of technology and entrepreneurship, people are using technology to shape a better future, innovating and investing in things that matter.
那么,你是否一直想要了解新兴科技趋势?
让"她爱科技"带给你前沿而专业的机会!
If you are looking to understand the future of technology then She Loves Tech is the conference for you!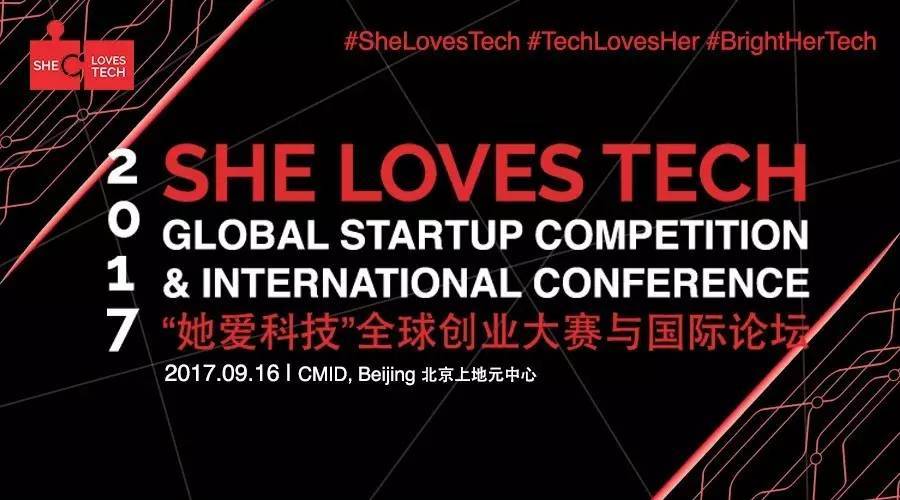 "她爱科技"(She Loves Tech)是在北京市妇女国际交流中心和Northern Territory(国家级东升孵化器)的指导下,由Lean In China(励媖中国)和TechRock(科技摇)联合发起的一个全球行动,由全球性赛事及国际论坛两部分组成,旨在展示科技领域的最新趋势、创业动态、创新机会并关注其为女性带来的机遇。本届"她爱科技"全球创业大赛在"一带一路"的8个国家和地区举行,包括加拿大、中国、德国、中国香港、印度尼西亚、以色列、巴基斯坦和新加坡,是现今世界上规模最大的女性科技创业大赛。
She Loves Tech is a global initiative showcasing the convergence of the latest trends in technology, entrepreneurship, innovation and its impact on and opportunities for women. Co-founded by Lean In China and TechRock with the support of the Beijing Women's International Center and Northern Territory, this year, the She Loves Tech initiative kicked off with a global startup competition held in multiple locations across the world (Canada, China, Hong Kong SAR, Germany, Indonesia, Israel, Pakistan, and Singapore) with the finals being held during the international conference in Beijing, China. She Loves Tech has since become the largest startup competition focusing on women and technology in the world.
在八个国家和地区的分赛中,10支优秀创业团队在本地区比赛中名列前茅,将于9月16日齐聚北京参加全球总决赛和国际论坛,同时"她爱科技"国际论坛将汇聚国内外顶尖投资人、企业家和女性相关的创业公司,致力于提升女性在科技界的影响力并用科技为女性服务。
Through the different competition rounds, 10 exceptional startups will gather in Beijing on September 16, 2017 to attend the international conference and pitch in the global finals. The She Loves Tech 2017 International Conference will consist of keynotes from leading executives, entrepreneurs and investors in the technology space, panels discussing key industry trends, and curated breakout sessions, promoting technology for women and women in technology. 
2017"她爱科技"全球创业大赛与国际论坛
2017 She Loves Tech Global Startup Competition & International Conference
9:00-9:45
签到 Registration & Networking
9:45-10:20 
开幕致辞 Introductory Remarks
北京市妇联代表

Representative from Beijing Women's Federation
陈玉馨 Virginia Tan
励媖中国联合创始人 Co-founder, Lean In China
堵燕菁 Claire Du
科技摇联合创始人 Co-founder, TechRock
10:20-10:40 
主题演讲 Keynote Speech
新的曙光:科技为女性、和平与繁荣创造的机遇
A New Dawn: Opportunities that technology is creating for women,  peace and prosperity
孙洁 Jane Sun
携程旅行网 CEO
CEO, Ctrip.com
10:40-11:00 
主题演讲 Keynote Speech
成功投资的秘密
Secrets to investing all the way to the top
龙宇 Annabelle Long
BAI(贝塔斯曼亚洲投资基金)创始及管理合伙人
Founding and Managing Partner, Bertelsmann Asia Investments
11:00-11:20 
主题演讲 Keynote Speech
如何利用金融科技驱动女性理财
How can technology drive financial literacy for women
蔡园竹 Yuanzhu Cai
爱钱进副总裁
Vice President, iqianjin.com
11:20-12:10 
圆桌论坛 Panel 
变革时代:中国,女性与科技
The Living Revolution: China, Women and Technology
陈婷 Crystal Chen
贝莱德海外投资基金管理有限公司 总经理
General Manager, BlackRock Overseas Investment Fund Management
盛洁俪 Cherry Sheng
资易通CEO
CEO, toProperty
孙北宁 Bonnie Sun
新加坡政府投资咨询(北京)有限公司
科技与互联网投资部 副总裁
Vice President, Technology Investment Group, GIC (Beijing) Co Ltd
王鹏 Patricia Wang
英特尔研究院 技术合作与战略部 总监
Director of Collaboration & Strategy, Intel Labs
张默 Mo Zhang
Yi+创始人兼CEO
Founder & CEO , Yi+
12:30-14:30 
展会 Exhibition
活动当天,我们将在场地设有各种最酷炫的科技展览区,你可以尽情享受科技的美妙与神奇。
The conference will also include a dynamic exhibition of cool new technologies, inventions and innovations. Stay tuned for more details!
13:30-14:00 
分会场 Breakout Session
初创技能入门 Startup Skills 101
将围绕Fund raising(集资)、BD(商务拓展)、Technology(科技)、PR(公关)、HR(人力资源管理)和Legal(法律)等话题展开。
过晓茜 Daisy Guo

特赞联合创始人兼COO
福布斯亚洲区30 under 30
Co-Founder & COO, Tezign
Forbes 30 under 30 Asia
Amelia Hall

Walkers 律师事务所合伙人
Partner, Walkers
Biman Liyanage
CirQ Technologies & Tamo Tech 联合创始人兼CEO
福布斯亚洲区30 under 30
Co-Founder & CEO, CirQ Technologies & Tamo Tech
Forbes 30 under 30 Asia
Qiuyun Song
Grab战略融资部门总监
Head of Strategic Finance, Grab
张宇 Yu Zhang

中以生物科技有限责任公司
北京运营中心CEO
CEO of Beijing Operation Centre,
China-Israel Biological Technology CO.,Ltd.
14:00-14:30 
分会场 Breakout Session 
如何找到你最好的搭档
How to find the right partner
Eric Schmidt
EventBank捷会易联合创始人兼CEO
Co-Founder & CEO, EventBank
Olivia Ji

EventBank捷会易联合创始人兼COO
Co-Founder & COO, EventBank
14:30-15:00 
咖啡洽谈 Coffee Chat
ofo共享经济之路:从"公益"到"独角兽"
How to create a billion-dollar company using a social mission
张巳丁 Austin Zhang
ofo 联合创始人
Co-Founder, ofo
陈为 Michelle Chen
ofo 首席产品官
CPO, ofo
15:00-15:30 
咖啡洽谈 Coffee Chat
中国第一个X奖:科技和女性力量在环保中的重要作用
China's first X prize: Using the power of technology and women to protect environment
关新 Michael Kuan
宽资本创始人兼董事长
Founder & Chairman, Kuan Capital
龙永强 Edward Frumkes
宽资本董事总经理
Managing Director, Kuan Capital
石岚 Lan Shi
海德资本集团联合主席
Co-Chair, Hyde Capital
15:30-17:00  
2017"她爱科技"全球创业大赛总决赛
She Loves Tech 2017 Global Startup Competition Final Pitch Round
评委 Judges
宾威廉 William Bao Bean
SOSV合伙人
General Partner, SOSV
顾旻曼 Grace Gu
真格基金董事总经理兼华东区负责人
Principal, ZhenFund
胡健 Jian Hu
鲸准执行总裁
CEO, Jing Data
黄蕙雯 Anita Huang 
创新工场CMO、运营合伙人
Chief Marketing Officer & Operating Partner, Sinovation Ventures
刘子迪 Zidi Liu
盈港资本创始人
Founding Partner, Green Harbor Investment
Yvonne Wang
赫斯特媒体广告集团中国区总裁
President of Hearst Media China
Joanna Wei
New Frontier Investment 创始合伙人
Founding Partner, New Frontier Investment
吴宏 Hong Wu
君联资本高级副总裁
Vice President, Legend Capital
17:00-17:20
投资人点评和Q&A
Investor Remarks and Q&A
17:20-17:30
闭幕致辞和颁奖仪式
Closing Remarks and Announcement of Winner
2017"她爱科技"全球创业大赛总决赛冠军,可享受以下福利:
✓ 入驻腾讯众创空间(北京)优惠权益
✓ 获得腾讯众创空间(北京)及创投媒体PR宣传机会
✓ 参与海外学人创业大会(OTEC)的绿色通道(在北京朝阳区提供包括签证、公司落地、对接投资等支持,针对海归和拥有外国国籍的创业者)
✓ 获得朝阳区"凤凰计划"的10万元海外与海归创业资助的机会
✓ 获得创投助手收录并曝光(一个联接8000名投资人的创业融资平台)
✓ 广泛的媒体曝光度:将在AllTechAsia、E27、ELLE等大量主流媒体和领先的国内外科技媒体上进行曝光),有被36氪采访和报道的机会
✓ 进入Plug and Play创业生态系统(包括对接知名投资机构、名企战略合作伙伴和世界 500 强企业)
✓ 获得中国首家互联网创业公司加速器"中国加速"的导师指导
✓ 导师指导、社交和融资机会
我们还将陆续更新更多的冠军福利,敬请期待。
The winner of the final round of the competition will receive:
✓ Discounted rates at Tencent Westart (Beijing)
✓ Access to Tencent Westart's PR and media resources
✓ Access to Overseas Talent Entrepreneurship Conference's (OTEC) resources (including but not limited to visa, business establishment and investment matching support in Beijing, China)
✓ Opportunity to apply for the Phoenix Plan grant of 100,000 RMB in Beijing's Chaoyang District (for companies interested in setting up in Beijing, China)
✓ Listed in 36Kr Investor Assistant, one of China's leading startup databases, which has access to 8000 investors
✓ Extensive media exposure including features in 36Kr, AllTechAsia, E27, Elle and other leading media outlets etc
✓ Access to Plug and Play's ecosystem (including well-known firms, corporate strategic partners and Fortune 500 companies)
✓ Mentorship with Chinaccelerator
✓ Other mentorship, networking and investment opportunities
*More prizes to be announced soon
17:30-18:00
主题演讲 Keynote Speech
撩运:寻找热情和创造幸运的秘诀
How to find your passion and create your own luck
陈愉 Joy Chen
百万畅销书作家 & 洛杉矶前副市长
Best-selling Author & Former Deputy Mayor of Los Angeles
18:00-19:00 

投资人社交酒会 
Wine Reception: Investor Networking
主持人 Host
赵晨威 Jonathan Rechtman
Cadence翻译科技公司,联合创始人
Co-founder, Cadence Translate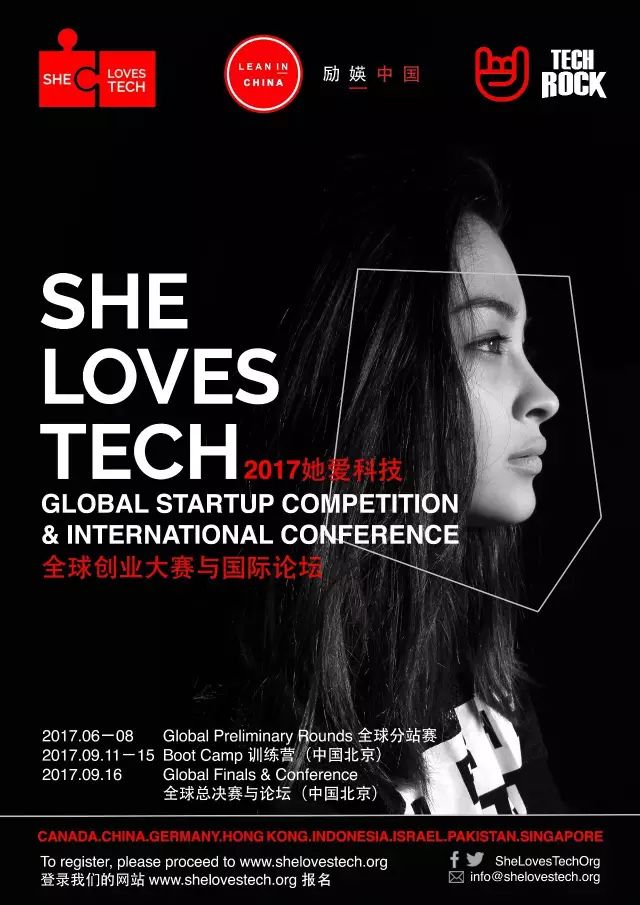 September 16, 2017 | 9:00-19:00
CMID (Central Mobile Intelligence District)
29 Xierqi Middle Road, Haidian District, Beijing, China
乘地铁13号线到"西二旗"站,再打车/骑车前往
Metro Line 13 to Xierqi station, then take a taxi or a bike to the venue
普通票: 249元
+50元 预定glo午餐(原价60元,含甜品哟)
Regular Ticket: RMB249
Add 50RMB to pre-order special lunch set from glo (value at 60RMB, dessert included)
✓ 与来自世界各地的高层管理者、企业家、投资人、初创公司和科技领导者会晤
Engage with key executives, entrepreneurs, investors, startups and tech influencers from around the world
✓ 在亲切氛围和互促互惠的谈话中建立新型合作关系
Build new partnerships and relationships in an intimate atmosphere fueled by stimulating conversations
✓ 行业领导者分享关于新兴市场的高质量言论
Inspiring talks and thought-provoking content on emerging market trends from industry leaders
✓ 发掘目前创新型初创企业,新兴投资热点和颠覆式科技
Discover innovative startups, emerging ideas and disruptive technologies on stage
✓ 了解如何融资和自我展示
Learn how to fundraise and pitch from investors and experts
✓ 获得IE大学提供的88000元奖学金以及进入IE大学进修的机会
Opportunity to receive 88,000 RMB She Loves Tech scholarship to IE University
Tickets will be available at limited quantities so click on the link here and get your tickets now!https://shelovestech.eventbank.cn/event/10930/
 并请关注She Loves Tech微信公众号(SheLovesTech) ,我们将会持续更新2017"她爱科技"全球创业大赛与国际论坛的更新鲜热辣的活动预报以及详细的嘉宾介绍,那么,不见不散噢。
Please follow us on our WeChat page (SheLovesTech) to keep updated with the latest news. For any enquiries, please email us at info@shelovestech.org or visit our website (www.shelovestech.org)
---
– End –
版权所有,不得转载 
– 合作/投稿 /联系 –

sisters@sororitychina.com

– Let No Woman Feel Alone  –
姐妹会 
Sorority China
姐妹会是中国首个推动独立女性个人成长的共享空间和社交平台,倡导全球女性间互相支持,让天下没有孤独的独立女人。我们致力于打造一个阳光、友善、正能量的独立女性社群,孵化女性创业项目,促进女性人格独立、拥有积极健康的生活方式和更多的事业选择,为世界创造美与爱,联合起来为全社会贡献更大的价值。
Sorority China provides safe and affordable coliving housing and coworking spaces for the growing number of independent professional women. We have two 'for women by women' projects launched in Shanghai to great demand, with more to follow across China. Our mission is simple: "let no woman feel alone", and we are looking for more like-minded women to join in Sorority China's one-of-a-kind  sisterhood community.